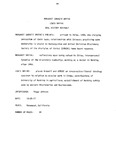 Description
Margaret Garrett Smythe's Parents: arrived in China, 1896; the changing perception of their task; relationships with Chinese; practicing open membership in church in Nantung-chow and United Christian Missionary Society of the Disciples of Christ (UCMSDC) home board response.
Margaret Smythe: reflections upon being raised in China; interpersonal dynamics of the missionary community; working as a doctor in Nanking after 1949.
Lewis Smythe: places himself and UCMSDC on conservative-liberal theology spectrum in relation to mission work in China; contributions of University of Nanking in agriculture; establishment of Nanking safety zone by western missionaries and businessmen.
Publisher
Midwest China Center
Keywords
parents, Chinese, church, Nantung-chow, United Christian Missionary Society, Disciples of Christ, UCMSDC, missionary, doctor, Nanking, theology, university, safety zone
Recommended Citation
Smythe, Margaret Garrett, "Midwest China Oral History Interviews" (1977). China Oral Histories. 88.
https://digitalcommons.luthersem.edu/china_histories/88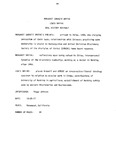 COinS