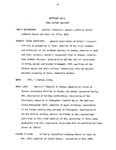 Description
Family background: parents' education; parents called by United Lutheran Church and leave for China, 1905.
Parents' China Experience: general description of father's responsibilities as evangelist in Hupeh; memories of the first students and professors of the Lutheran seminary in Shekow; memories of amah and other servants; mother's responsibilities in Shekow; relationship between Missouri Synod mission and the rest of Lutheranism in China; mother and brother kidnapped, 1932; qualities of the Chinese people and their culture; interactions with the Western business community in China; memorable Chinese.
Early Life: family's lifestyle in Shekow; memories of visits to Hankow; missionary families in Shekow; the German Concession during WWI; description of holiday celebrations; description of the missionary community on Kikungshan; typical day at the American School-Kikungshan (ASK); memories of Agnes Kittelsby; description of the Sunday evening song services on Kikungshan; description of the ASK mission society; medical facilities at ASK; recreational activities at ASK; other memories of ASK; activities in China after graduation from ASK; experiences associated with the political/military unrest of 1926/27.
Return to China: called by Evangelical Lutheran Church to teach at ASK, 1935; memories of Joseph Aalbue; evacuation of ASK, 1938; experiences with ASK in Hong Kong; memories of the South China boat people; experiences before and during the Japanese occupation of Sinyang and Hankow; work with Jewish refugees; closes ASK and returns to America, 1941; trip to Hankow to reopen ASK, 1946; post-war conditions in Hankow, Sinyang and on Kikungshan; interactions with the Chinese; the changing Chinese response to American missionaries; living conditions at ASK in Sinyang; Christmas in Shekow, 1946; evacuation of ASK to Hong Kong, 1947; description of and experiences at ASK in Hong Kong; general reflections upon teac hing missionary children at ASK; effects of missionary life on the family; reflections upon the approach of mission work in China.
Publisher
Midwest China Center
Keywords
parents, United Lutheran Church, father, evangelist, Hupeh, seminary, Shekow, amah, mother, Missouri Synod, Lutheranism, kidnapped, Chinese, culture, Western business community, Hankow, missionary, german Concession, WWI, Kikungshan, American School, ASK, Agness Kittelsby, unrest, Evangelical Lutheran Church, Joseph Aalbue, evacuation, Hong Kong, South China boat people, Japanese, Sinyang, Jewish refugees, post-war, Christmas
Recommended Citation
Sovik, Gertrude, "Midwest China Oral History Interviews" (1978). China Oral Histories. 83.
https://digitalcommons.luthersem.edu/china_histories/83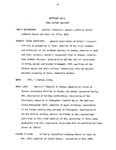 COinS